Wish you Merry Christmas and Happy New Year!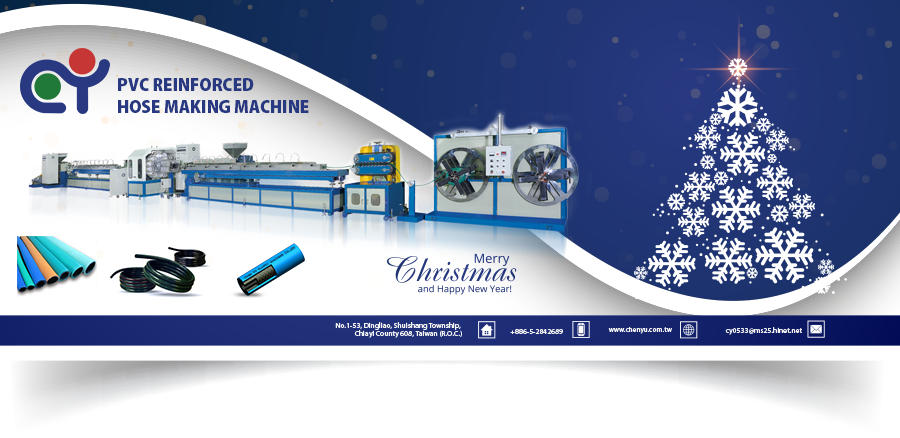 CHEN YU PLASTIC MACHINE CO., LTD is a professional designer and manufacturer in plastic machinery field. With yearly experiences of design and manufacture in plastic industry as well as sophisticated types of machinery, CHEN YU constantly devotes on innovative R&D development to improve product quality to near perfection.
As a versatile manufacturer, CHEN YU is definitely capable of meeting various requirements from clients in the industry. The state-of-the-art high precision and efficiency automatic plastic types of machinery at competitive prices from CHEN YU provide satisfying options for clients' procurement.
The superior machine quality, considerate customer service and international marketing network are all the factors to win many approvals for CHEN YU from the market. In the future, CHEN YU will keep forward as an innovative pioneer for plastic industry.
CHEN YU have 30 years experience specializing in PVC Extrusion Machinery Line to sale all over the world.
Main Products :
• Profile:PVC/PS/PC/PP/ABS/LDPE/HDPE/WPC and some special material.
• PIPE:PVC/PE
• Reinforced hose:PVC/NYLON
• Recycling:LDPE/HDPE/ABS/PP/EPS/PET
• Wood Plastic composite:PVC/PS/PE/TPE
Headquarters:
• Add:No.1-53, Dingliao, Shuishang Township, Chiayi County 608, Taiwan (R.O.C.)
• Tel:+886-5-2842689
• Fax:+886-5-2844189
• Email:[email protected]